› COUNTER INVESTIGATION Contre-Enquête
› TEEN SPIRIT Tel père telle fille
› ODETTE TOULEMONDE Odette Toulemonde
› THE PRICE TO PAY Le prix à payer
› THE AUDITION L'audition
› COULD THIS BE LOVE Je crois que je l'aime
› THE UGLY DUCKLING AND ME Le vilain petit canard et moi
› MADAME IRMA Madame Irma
› STUCK TOGETHER 3 amis
› IN MOM'S HEAD La tête de maman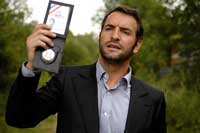 COUNTER INVESTIGATION
CONTRE-ENQUETE
2007 - EAST COAST PREMIERE
THRILLER directed by
Franck Mancuso
Starring:
Jean Dujardin (Richard Malinowski)
Laurent Lucas (Daniel Eckmann)
Agnès Blanchot (Claire Malinowski)
Aurélien Recoing (Josse)
Jean-Pierre Cassel (Docteur Delmas)
Jacques Frantz (Michel Arnalde)
Malinowski, Captain of the Murder Squad, is used to being confronted by the worst kind of crimes. But when his own daughter is murdered, things take a dramatic turn. Overwhelmed by his distress, his colleagues carry out an investigation at the double and a suspect is quickly arrested, then sentenced.
From deep in his cell, he who all clues indicate is guilty of the crime proclaims his innocence and decides to write to Malinowski. And what if he is innocent? The doubts of a cop slowly replace the pain of a father who has obtained justice. For Malinowski, a solitary counter investigation begins.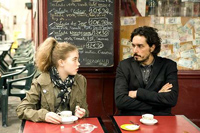 TEEN SPIRIT TEL PERE TELLE FILLE
2007 - US PREMIERE
COMEDY directed by
Olivier De Plas
Starring:
Vincent Elbaz (Bruno)
Elodie Bouchez (Sandra)
Daisy Broom (Nancy)
Lea Drucker (Alice
Bruno (Vincent Elbaz, Ma vie en l air) is a thirtysomething has-been rock singer. As time goes by, he's more and more pessimistic about life and barely steps outside. Tired of his slacking around, his current girlfriend kicks him out. That's the moment an ex-girlfriend chooses to reveal he has a teenage daughter named Nancy.
Luckily, Bruno can count on best friend Sandra (Elodie Bouchez, Best Actress Cannes 1998 for The Dreamlife of Angels) for support. Confronted with his endless failures and the rebellious ways of Nancy, this incorrigible bachelor has no choice but to wise up and become a responsible father. Helping out his troubled daughter, he ends up putting his own life back on track.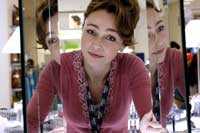 ODETTE TOULEMONDE
2007 - US PREMIERE
COMEDY directed by
Eric-Emmanuel Schmitt
Starring:
Catherine Frot (Odette)
Albert Dupontel (Balthazar Balsan)
Jacques Weber (Olaf Pims)
Odette Toulemonde has no objective reason to be happy, but she is. Balthazar Balsan has all it takes to be happy, but he is not.
Odette, in her awkward 40s, between her luscious hairdresser son and her teenage daughter stuck inpuberty, works by day selling make-up in a department store and by night sewing feathers on costumes for the girls of Parisian cabarets. She has one dream : thanking Balthazar Balsan, her favorite writer, for the joy he brings to her life.
The wealthy and seductive writer is going to land in her life in a totally unexpected way.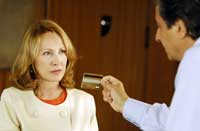 THE PRICE TO PAY LE PRIX A PAYER
2007 US PREMIERE
COMEDY directed by
Alexandra Leclère (Les sœurs fâchées)
Starring:
Christian Clavier (Jean-Pierre)
Nathalie Baye (Odile)
Gérard Lanvin (Richard)
Géraldine Pailhas (Caroline)
Jean-Pierre Ménard, a rich businessman, has everything he needs to be happy: a successful career, a beautiful wife, Odile, a sixteen-year-old daughter, a lovely apartment, and a fine car with chauffeur Richard. He does, however, have one little problem: For several years now he and his wife have had separate bedrooms, and he feels alone, very alone. He no longer knows what to do, what to think. A little lost, he decides to confide in his chauffeur.
Richard finally imparts a precious piece of advice to his boss: "Cut off your wife's means of survival, and you'll see!" Jean-Pierre takes him at his word, steals his wife's credit card in the middle of the night.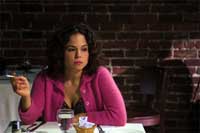 THE AUDITION L'AUDITION
2005 (Canada) - 1st SEMESTER
2008 (France) - FLORIDA PREMIERE
DRAMA directed by
Luc Picard
Starring:
Luc Picard (Louis)
Suzanne Clément (Suzie)
Alexis Martin (Marco)
Denis Bernard (Philippe Chevalier)
Julie McClemens (Julie)
Louis, 40 years old, works as a frightener, a man hired to intimidate people with "bad credit" and has always dreamed of becoming an actor. His life is turned upside down when he learns that, not only is he going to become a father but that the opportunity for his dream to come true is knocking at his door. Louis will have to dig deep within himself to prepare for the upcoming roles of his life.
Life is a mystery, and only grown-ups forget that.
L'Audition is an ode to the child that hides within each of us.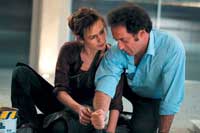 COULD THIS BE LOVE

JE CROIS QUE JE L'AIME
2007 -
EAST COAST PREMIERE
ROMANCE directed by
Pierre Jolivet (Ma petite entreprise)
Starring:
Vincent Lindon (Lucas)
Sandrine Bonnaire (Elsa)
François Berléand (Roland Christin)
Forty-three-year-old Lucas, a rich, divorced industrialist, is irresistibly attracted to thirty-eight-year-old Elsa, a renowned ceramist whom he's commissioned to create a fresco for his office foyer.
But, still smarting from a recent disappointment in love, he asks Roland Christin, a private detective from his company, to discover the reasons why this lovely woman is still single.
Without the slightest scruple, Roland puts the most modern of surveillance methods into operation. Lucas better beware if Elsa finds out.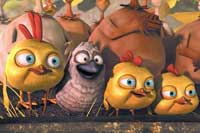 THE UGLY DUCKLING & ME
LE VILAIN PETIT CANARD ET MOI
2007 - US PREMIERE
ANIMATION directed by
Michael Hegner & Karsten Kiilerich
Starring:
Bruno Solo
M. Pokora
We all know the story about the duckling that transforms into a swan, but what most people don't know is that this ugly little duckling was adopted against its will by Ratso, a city rat which had taken refuge in the countryside.
Passing himself off among the ducks as the father of a stray egg, Ratso is allowed to stay in the enclosed area of the farmyard where he's hiding out. But there's a price attached! Not only must he raise the volatile youngster barely hatched from the egg, he must also provide handyman services for all and sundry: Two roles for which Ratso does not exactly possess the necessary qualifications.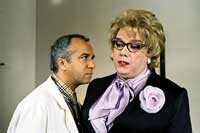 MADAME IRMA
2006 - US PREMIERE
COMEDY directed by
Didier Bourdon & Yves Fajnberg
Starring:
Didier Bourdon (Francis/Mme Irma)
Pascal Légitimus (Ludovic)
Arly Jover (Inès)
Catherine Mouchet (Brigitte)
Francis led a comfortable senior executive life – until the chief manager of the American head office decided to fire everybody. It's such a shock for this forty-year-old that he doesn't even dare tell Inès, his young wife, about it. Distraught and alone, Francis ends up at a medium's, who, failing to provide any responses, will nevertheless spark an idea.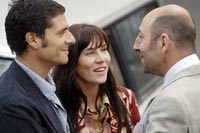 STUCK TOGETHER 3 AMIS
2007 - US PREMIERE
COMEDY directed by
Michel Boujenah
Starring:
Mathilde Seigner
Kad Merad
Pascal Elbé
Philippe Noiret
Yves Renier
What is a friend? Do I have any? Am I one? What is this strange relationship we call friendship? This eternally unconsummated love affair. How can I help my friends? Do I have the right to intervene in their lives just because we're friends? And how far, and why?And, deep down, what is the strange feeling I have when a friend needs me? A kind of happiness, or a need?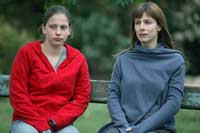 IN MOM'S HEAD LA TETE DE MAMAN
2007 - US PREMIERE
COMEDY/ROMANCE directed by
Carine Tardieu (L'aîné de mes soucis)
Starring:
Karin Viard (Juliette)
Chloé Coulloud (Lulu)
Kad Merad (Jacques)
Pascal Elbé (Antoine)
Twenty years ago, a few years before I was born, mom loved a guy. Twenty years ago, they were forced apart and when the silly fool left, he took my mom's smile with him.
I've gotta find him, gotta bring him back for mom. Otherwise, I'll die. – Lulu, 15 years old.