› ASTERIX AT THE OLYMPIC GAMES (Asterix aux Jeux Olympiques)
› DADDY COOL (15 ans et demi)
› GO WEST: A LUCKY LUKE ADVENTURE (Lucky Luke: Tous à l'Ouest)
› LOVE ME NO MORE (Deux jours à tuer)
› MADE IN ITALY
› MAGIC (Magique)
› PLEASE DON'T GO (J'veux pas que tu t'en ailles)
› SCHOOL'S OUT (Nos 18 ans)
› SUMMER OF '62 (Cartouches Gauloises)
› THE GREAT ALIBI (Le Grand Alibi)
› THE MERRY WIDOW (Enfin Veuve)
› WELCOME TO THE STICKS (Bienvenue chez les Ch'tis)
›› Go to 2008 PHOTO GALLERY

ASTERIX AT THE OLYMPIC GAMES (Asterix aux Jeux Olympiques) - 2008
French Release: Jannuary 2008 - US PREMIERE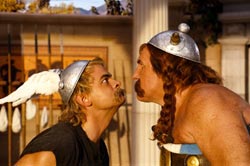 Director: Thomas Langmann, Frédéric Forestier
Cast:
Clovis Cornillac (Asterix)
Gérard Depardieu (Obelix)
Alain Delon (Cesar)
Benoît Poelvoorde (Brutus)
In their new adventures, Asterix and Obelix come to the aid of their friend Alafolix, who must fight Brutus, Cesar's son, to win both the Olympic Games and the hand of beautiful Irina. But heinous Brutus is determined to beat the Gaul and take his father's place.
---
DADDY COOL (15 ans et demi) - 2008
French Release: April 2008 - INTERNATIONAL PREMIERE
Director: François Desagnat, Thomas Sorriaux
Cast:
Daniel Auteuil (Philippe)
Juliette Lamboley (Eglantine)
Philippe Le Tallec, a scientist living in the USA, has to come back to France to look after his young girl Eglantine he has not seen for many years. Willing to have a nice relationship with her, he discovers that Eglantine, 15 years old, has better things to think about…
---
GO WEST: A LUCKY LUKE ADVENTURE (Lucky Luke: Tous à l'Ouest) - 2008
French Release: January 2008 - INTERNATIONAL PREMIERE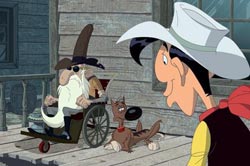 Director: Olivier Jean-Marie
Voices:
Lambert Wilson
Clovis Cornillac
François Morel
New York 1855. The Daltons escape and rob all the banks of the city one after the other. At the end of a crazy chase through the Big Apple, Joe Dalton has barely enough time to hide the loot in the cart of an immigrant caravan before being arrested by Lucky Luke. The members of the caravan, some pioneers victim of an unscrupulous cheat, have only 80 days to reach California and reclaim their land. A race against the clock begins.
---
LOVE ME NO MORE (Deux jours à tuer) - 2008
French Release: April 2008 - EAST COAST PREMIERE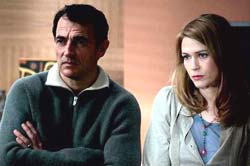 Director: Jean Becker
Cast:
Albert Dupontel (Antoine)
Marie-Josée Croze (Cécile)
Pierre Vaneck (Le père d'Antoine)
Advertising executive Antoine is 42 and a pretty successful guy. He's married to Cécile, has two kids, and lives in a nice house in the Paris suburbs where he gets on well with his neighbors. And then one ordinary day, his life is turned upside-down. In the space of a single weekend, Antoine – a seemingly trouble-free guy – destroys his entire life. Is it a mid-life crisis? Is he losing his mind? It's anybody's guess...
---
MADE IN ITALY - 2008
French Release: July 2008 - INTERNATIONAL PREMIERE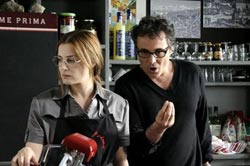 Director: Stéphane Giusti
Cast:
Gilbert Melki (Luca)
Amira Casar (Isabella)
Caterina Murino (Monica)
Françoise Fabian (Rose)
French writer Luca Morandi was born in Italy. He is forty years old and finds himself at a crossroads in his life: he doesn't know where to turn - France, his adopted home where he was raised? Or Italy, the country of his birth, perfect, wonderful and ideal, like a child's dream? Today, Luca faces a crisis: he's neither Italian, nor French. He's nothing. His father, a renowned cosmetic surgeon in Turin, dies suddenly. Luca has to return to Italy with his sister Isabella for the funeral. But the burial, this bereavement that should help him grow-up, becomes a complete nightmare: widows, secret mistresses, new brothers and sisters, enough debts to drive you crazy, and a new and different "berlusconised" Italy without memory.
---
MAGIC (Magique) - 2008
French Release: November 2008 - INTERNATIONAL PREMIERE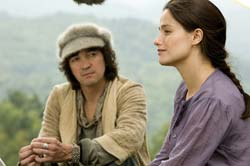 Director: Philippe Muyl
Cast:
Marie Gillain (Betty)
Cali (Baptiste)
Antoine Duléry (Auguste)
10-year-old Tommy lives with his mother Betty on an isolated farm deep in the Canadian countryside. Tommy has never known his father, and Betty, who lives on the farm like a woman on the run, vainly searches on-line for a companion. A travelling circus arrives at the nearby town, Tommy has a brainwave.
---
PLEASE DON'T GO (J'veux pas que tu t'en ailles) - 2008
French Release: April 2007 - EAST COAST PREMIERE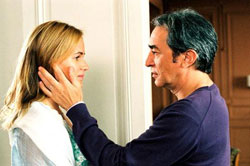 Director: Bernard Jeanjean
Cast:
Richard Berry (Paul)
Judith Godrèche (Carla)
Julien Boisselier (Raphaël)
Paul is a brilliant psychoanalyst. Nevertheless, he doesn't seem to realise that his marriage with Carla is on its last legs. Raphael, one of his patients, confides to him that he's fallen in love with a married woman. During the session, Paul discovers that this woman is none other than his wife. Rather than to put an end to the sessions, he's going to manipulate his patient to win back his wife. But Raphael will not remain duped for long…
---
SCHOOL'S OUT (Nos 18 ans) - 2008
French Release: July 2008 - INTERNATIONAL PREMIERE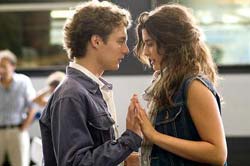 Director: Frédéric Berthe
Cast:
Michel Blanc (Professeur Martineau)
Théo Frilet (Lucas)
Valentine Catzéflis (Clémence)
At a few days of the exam, a high-school pupil decides to regulate his accounts with the professor more vicious of the college. No the chance, this one is member of the jury to the oral examinations! Worse, he is the father of the young unknown girl with which our hero fell in love.
---
SUMMER OF '62 (Cartouches Gauloises) - 2007
French Release: August 2007 - US PREMIERE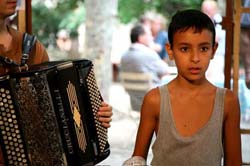 Director: Mehdi Charef
Cast:
Ali Hamada (Ali)
Thomas Millet (Nico)
Julien Amate (David)
The last spring of the Algeria war. Spring 62 before of the Independence summer. Ali/Mehdi Charef, 11 years, and his best buddy Nico look at their worlds changing… And make pretence believe that Nico will never leave. Never?
---
THE GREAT ALIBI (Le Grand Alibi) - 2008
French Release: April 2008 - US PREMIERE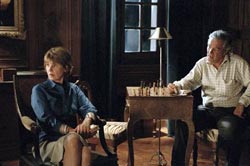 Director: Pascal Bonitzer
Cast:
Miou-Miou (Eliane)
Lambert Wilson (Pierre Collier)
Valeria Bruni Tedeschi (Esther)
Pierre Arditi (Henri Pages)
Pierre Collier is dead… Murdered at the home of Senator Henri Pagès and his wife Eliane during a holiday weekend. His wife, Claire, has been charged and was arrested revolver in hand next to the victim. Undoubtedly she had reasons for wishing to take revenge on her unfaithful husband. Nevertheless, appearances can be misleading. The weapon turns out to be not that of the murder, and every guest becomes a potential suspect. Esther, Pierre's mistress, Léa, the love of his humiliated youth, Philippe his rival. And why not the Senator in person, a gun enthusiast? A complex cased to be solved for Captain Grange, all the more so when it's followed by a second murder most foul…
---
THE MERRY WIDOW (Enfin Veuve) - 2008
French Release: January 2008 - US PREMIERE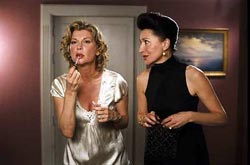 Director: Isabelle Mergault
Cast:
Michèle Laroque (Anne-Marie)
Jacques Gamblin (Léo)
Anne-Marie has just lost her husband in a car crash. She is free at last to love the man she has been seeing in secret for the past two years! But she didn't expect her well-meaning family would stay on to help her through her grief. She now finds herself even more trapped than when she was married...
---
WELCOME TO THE STICKS (Bienvenue chez les Ch'tis) - 2008
French Release: February 2008 - EAST COAST PREMIERE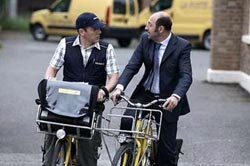 Director: Dany Boon
Cast:
Kad Merad (Philippe)
Dany Boon (Antoine)
Zoé Félix (Julie)
Philippe, a postal worker forced to relocate in the North of France. A southern man who sees the North as a post-industrial wasteland inhabited by coarse locals speaking the incomprehensible "Ch'ti" dialect, Philippe meets Antoine, a friendly mailman who introduces him to the locals. Through Antoine, he learns to know and appreciate the land and its people, but keeps telling his wife back home that he is living a nightmare. All is well until she decides to join him.
PEOPLE 2008
Clicking on any picture will open the photo gallery.
Then click on the Prev or Next labels that will appear on the top left or top right of the picture when moving your mouse.