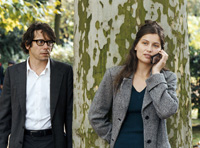 Comedy/Drama directed by
PASCAL THOMAS
Starring:
Laetitia Casta(Francesca)
Mathieu Almeric (Martin)
Pierre Arditi (Adrien)
Francesca (Laetitia Casta) and Martin (Mathieu Almeric) are living a merry life, between reality and fiction, and especially above their means. They occupy a huge apartment with a small rent, which they owe to the old law of 1948. This large apartment has become some sort of phalanstere for friendship.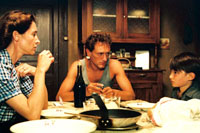 Drama directed by
DANIEL DUVAL
Starring:
Jean-Paul Rouve (Gustave)
Anne Brochet (Cécile)
Denis Podalydès (Falmin)
Annie Girardot ( Alphonsine)
Raphaël Katz (Pippo)
Pippo, 9 years old, secretive and independent, is taken in by Gustave and Cécile, a farming couple living in the countryside. It's the season for working the fields – providing the prospect of a new life for the little boy.
Earlier events in Pippo's life have left their mark, and he has difficulty adapting to this new world. However, little by little, he opens up to the people around him. The barriers slowly fall and Pippo shapes his identity.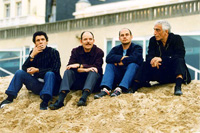 Comedy/Drama directed by
MARC ESPOSITO
Starring:
Gérard Darmon(Jeff)
Jean-Pierre Darroussin (Manu)
Bernard Campan (Antoine)
Marc Lavoine (Alex)
Four friends: Alex, Antoine, Jeff and Manu.
Four modern guys, stable and immature, at a turning point in their lives.
They've been friends for 25 years, ever since they played for the same football team in the Paris suburbs. They see each other regularly. They like talking, arguing and laughing together.
This particular spring, various events normal in any life - the death of a father, a wife's infidelity, a daughter's wedding - bring them even closer together.
Confronted with situations they can't control, they confide in and help each other, talk things through and reflect on their lives.
Their relationships with women are central to all their problems, conversations and arguments.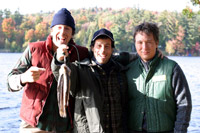 Comedy/Drama directed by
RICARDO TROGI
Starring:
Patrice Robitaille (Fred)
Jean-Philippe Pearson (Paul)
Pierre-Francois Legendre (Sébastien)
Julie Deslauriers (Anne)
The flight of time is undoubtedly the only true proof of justice here below. Some would like to stop its way, others would rather choose to follow it. It is now time for choices for those three men in their thirties. Responsible involvement in relationships and paternity. How to react when our friendships keep on changing, when the circle is slowly closing on the small cell of our new family, when we feel that our youth is coming to an end.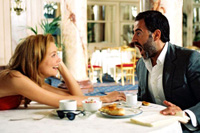 Comedy/Drama directed by
CHRISTIAN VINCENT
Starring:
Isabelle Carré(Franssou)
José Garcia (Stéphane)
Francois Cluzet (René)

"Quatre Etoiles" is a story about money, and therefore, feelings.
It's the story of a girl who inherits €50,000 and doesn't really know what to do with it. It's a burden, this thing called money. It binds you, just like feelings.
Franssou decides to spend it by going to the Côte d'Azur. Here she comes across Stéphane at the Carlton Hotel. He's interested in money – other people's money, that is. He wants Franssou's, but the lady is no pushover. They'll join forces and try to cheat a third scoundrel, a former racing car driver.
A story that mixes vice and virtue, money and feelings.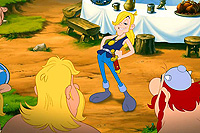 Animation directed by
STEFAN FJELDMARK and
JESPER MOLLER
Based on the work of René Goscinny & Albert Uderzo.
Adaptation Rights: Les Editions Albert René
With the voices of:
Roger Carel (Asterix)
Jacques Frantz (Obelix)
Lorànt Deutsch (Goudurix/Justforkix)
Sara Forestier (Abba)
Pierre Palmade (Cryptograf)
Big event for our favorite village in Gaul: Justforkix, the Chief's nephew, has just arrived from Parisium. Asterix and Obelix are assigned an impossible task: to make a real man out of him. Because under his arrogant looks, the kid from the big city is just a scared chicken, and the tough training he receives does little to change things...
Meanwhile, the Vikings have landed in Gaul, determined to find a "champion of fear" who will, as their seer has promised, teach them to fly, since supposedly "fear lends wings"...
Disaster strikes when Justforkix is abducted by the Vikings! Asterix and Obelix must find him at all cost. While they chase after him all the way to the frozen North, their young protégé, now unwillingly cast at the center of an abominable plot, meets the beautiful and intrepid Abba, and discovers that love can hit you like a punch in the face... talk about culture shock!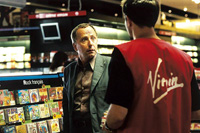 Comedy/Drama directed by
LAURENT TUEL
Starring:
Fabrice Luchini (Fabrice)
Johnny Hallyday (Johnny)

Fabrice, a middle executive, is a big fan of Johnny Hallyday's, perhaps his number one fan. One morning though, he wakes up to a different reality, in another world in which Johnny does not exist. Lost and confused, he decides to look for Jean-Philippe Smet to find out what has become of him in this new dimension. When he finds him at last, it is only to discover the manager of a bowling alley, an ordinary guy instead of a celebrity. Then Fabrice has one and only goal: revive his idol; awaken the « Johnny » living and hiding in Jean-Philippe.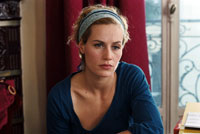 Comedy directed by
ROSCHDY ZEM
Starring:
Cécile de France (Clara)
Roschdy Zem (Ismaël)
Pascal Elbé (Milou)
Jean-Pierre Cassel
Ismaël and Clara are a happy couple.
Ismaël is a music teacher, and he takes it easy. He hates pushing himself forward, taking decisions or making rules.
Clara works as a therapist in the psychomotor unit of a medical center for injured people. She has a strong personality, and she hates when people tell her what she should do.
One day, Clara finds out she is pregnant, which is the most beautiful thing she and Ismaël coud have expected. But things are not always that simple. They will first have to announce their relationship officially to their families.
While Ismaël is well aware that it is not going to be easy for his Muslim family to "swallow the bitter pill", Clara will be completely taken aback by her family's reaction. Whereas she thought her parents, of a Ashkenaze descent, would be quite open-minded, she will find out that they are not willing at all to open the family circle to an Arab son-in-law.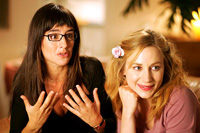 Drama directed by
BENOIT COHEN
Starring:
Mathieu Demy (Maxime)
Eléonore Pourriat (Chine)
Julie Depardieu (Praline)
Romane Bohringer (Anna)
Maxime Maréchal, a successful 35-year-old phycisian, leads a well-ordered life with a lawyer as a wife, his admiring friends and a happy family. Until the day when he meets Chine, a singer, who will cause the electric shock so much feared by his relatives. Max decides to give up his career and start a rock'n'roll band, an old dream of his. He will drag his family circle and close friends into his crazy adventure, causing chaos in everyone's life.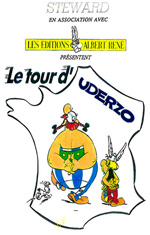 Documentary directed
by Patrick Gimenez
Private collection
Starring:
Albert Uderzo
Documentary ordered by Les Editions Albert René in 1997 during the French promotion of "La Galère d'Obelix".
In amphitheatres filled with kids full of admiration for Albert Uderzo while he is drawing some of his most popular characters...
This documentary will present Albert Uderzo at his drawing desk, bringing Asterix and Obelix to life in actual time (17 mns).
A unique and exceptional documentary.
10 NEW
French Movies
with
AMERICAN SUBTITLES
AMC THEATER COCOWALK 16
3015 Grand Ave. #322
Coconut Grove, FL 33133
(Corner of Grand Ave. and Virginia St.)
Ph: 305-466-0450
Get directions