BACK TO MOM'S
(Retour chez ma mère)
COMEDY
French release: June 2016
French language with American subtitles
Running Time: 1h31
Director: Eric Lavaine
Cast: Josiane Balasko, Alexandra Lamy, Mathilde Seigner
Producer: Jerome Seydoux, Vincent Roget
International Sales: Pathé International
SYNOPSIS
Would you like to return home to live with your parents? Forty-year-old Stéphanie is obliged to return home to live with her mother. She is welcomed with open arms: she can enjoy the over-heated apartment, Francis Cabrel stuck on replay, furious games of Scrabble and precious maternal advice on how to sit at the table and how to live her life. Both women must exercise infinite patience to cope with this new situation. And when the rest of the clan turns up for dinner, settling of scores and family secrets follow on one from the other in a most joyful way. But there are healthy explosions. Welcome to a highly risky world: the family!
Aimeriez-vous retourner vivre chez vos parents ? A 40 ans, Stéphanie est contrainte de retourner vivre chez sa mère. Elle est accueillie les bras ouverts : à elle les joies de l'appartement surchauffé, de Francis Cabrel en boucle, des parties de Scrabble endiablées et des précieux conseils maternels sur la façon de se tenir à table et de mener sa vie… Chacune va devoir faire preuve d'une infinie patience pour supporter cette nouvelle vie à deux. Et lorsque le reste de la fratrie débarque pour un dîner, règlements de compte et secrets de famille vont se déchaîner de la façon la plus jubilatoire. Mais il est des explosions salutaires. Bienvenue dans un univers à haut risque : la famille !
REVIEWS
Le Dauphiné Libéré
Sur un thème social plutôt grave, une comédie populaire, au bon sens du terme, et réussie. Avec un duo Balasko-Lamy, où les deux font la paire.
Femme Actuelle
Le sujet abordé, pile dans l'actualité, est traité avec beaucoup de justesse et d'humour, comme cette laborieuse leçon sur internet de la fille à la mère. Retour chez mère, un retour gagnant !
Saturday November 5 - 6:45pm

LE SUCCES DE L'ETE

US PREMIERE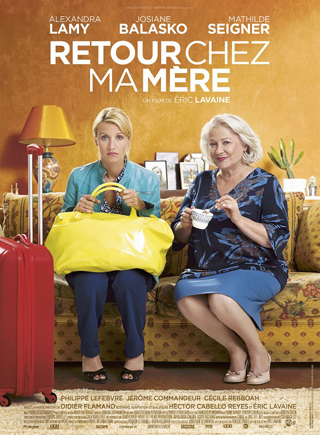 Sponsored by