COCO - 2009
French Release: March 2009 - EAST COAST PREMIERE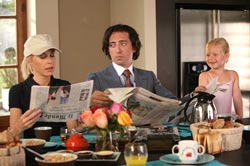 Director: Gad Elmaleh
Cast:
Gad Elmaleh (Coco)
Manu Payet (Steve)
Pascale Arbillot (Agathe)
Coco, 40 years old self made man, is the perfect example of social success. Starting with nothing as an immigrant, he carried out in 15 years one of the most fulgurating success stories of modern time. But for Coco, the greatest event is soon to come: the bar-mitzvah of his son Samuel, which will take place in six months. Coco invites everyone at the "national event of the year", and promises it to be the most amazing, the most fabulous event, in one word - the best of Coco.
---
BLAME IT ON MUM (Quelque chose à te dire) - 2009
French Release: May 2009 - INTERNATIONAL PREMIERE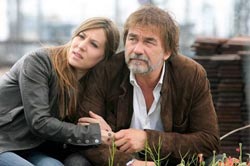 Director: Cécile Telerman
Cast:
Mathilde Seigner (Alice)
Pascal Elbé (Antoine)
Olivier Marchal (Jacques)
Charlotte Rampling (Mady)
Marina Tomé (Béatrice)
The Celliers are an ordinary family... they're all extremely crazy. Everything would have been fine in the Celliers household if Alice had not, during an evening of depression, "accidentally" run into Jacques, a jaded lone-wolf cop, the
grain of sand that grates in the perfectly-oiled wheels of their family neuroses. Then everything explodes... for better or worse.
---
THE ONE I LOVE (Celle que j'aime) - 2009
French Release: April 2009 - US PREMIERE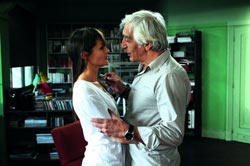 Director: Elie Chouraqui
Cast:
Marc Lavoine (Antoine)
Barbara Schulz (Isabelle)
Gérard Darmon (Jean)
"I was ten years old. An age at which "the one I love" is called Mom, an age at which love is exclusive and passionate. Since my father and she got divorced, we lived tight together, without any room for anyone else and certainly not a man, I mean another man. Nevertheless little by little and without me noticing, Antoine came into our lives. He loved my mother, that I could easily understand, but then she loved him back, and that was a serious problem. Then, the worst happened. My Mom told me that Antoine would be my "stepfather". That was irreversible, unavoidable…Then since there was nothing left I could do… the fight began. My idea was not to hurt him but simply to eradicate him… to have him burn with his house, pushed under a train, contaminated by a lethal disease. Simple thing! I even tried, and almost succeeded in, having Mom and Dad get back together, since Dad still loved her… Yes I tried that and even worse sometimes (and that might be what will make you laugh the most in my story. But… because there is a "but"…as time went by, and in spite of our quarrels, I… how could I put it? I got close to him. Yes, I got close to Antoine and I understood that "the one I love" could be plural… and that's where the story begins!"
---
BAMBOU - 2009
French Release: July 2009 - INTERNATIONAL PREMIERE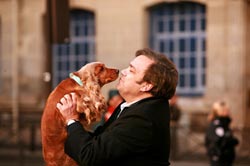 Director: Didier Bourdon
Cast:
Didier Bourdon (Alain)
Anne Consigny (Anna)
Pierre Arditi (Reynald)
Alain works in a bank and craves for a child with his wife, Anna. But she is more interested in her career as a well-known piano player rather than becoming a housewife mother. Everything is about to turn upside down when the couple unexpectedly takes in a lovely female Coker dog, Bambou. After passing an audition, Anna goes on tour with an internationally famous orchestra director. Being apart enhances their disagreements so much that Anna and Alain decide to get separated for a while. Alain thus ends up wifeless and with no kid but a female dog that he barely stands.
---
NEUILLY (Neuilly sa mère !) - 2009
French Release: August 2009 - INTERNATIONAL PREMIERE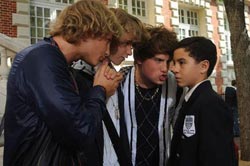 Director: Gabriel Julien-Laferrière
Cast:
Samy Seghir (Sami)
Denis Podalydès (Stanislas)
Valérie Lemercier (La mère de Charles)
Sami Benboudaoud, 14, is living happily with his pals in the projects of Chalon-sur-Saone until destiny snatches him from his paradise and drops him into the living hell of Neuilly-sur-Seine!
---
SO CLOSE SO FAR (Tellement proches) - 2009
French Release: June 2009 - EAST COAST PREMIERE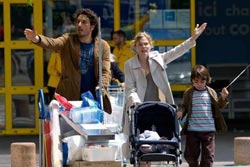 Director: Eric Toledano, Olivier Nakache
Cast:
Vincent Elbaz (Alain)
Isabelle Carré (Nathalie)
François-Xavier Demaison (Jean-Pierre)
Jean Benguigui (Le père d'Alain)
Family: A group of persons sharing common ancestry, goals and values, and having long-term commitments to one another.
When Alain married Nathalie, he didn't know that he'd be also marrying her whole family.
---
SPY(ies) (Espion(s)) - 2009
French Release: January 2009 - EAST COAST PREMIERE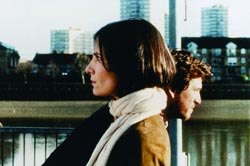 Director: Nicolas Saada
Cast:
Guillaume Canet (Vincent)
Géraldine Pailhas (Claire)
Hippolyte Girardot (Simon)
Stephen Rea (Palmer)
Vincent, a brilliant young man, has not taken the royal path that his studies laid out for him. Instead, he works as a baggage handler at an airport. When checking a diplomatic pouch, his colleague Gérard is killed by the explosion of a perfume bottle. Vincent surprises the bag's owner, a Syrian, picking up his luggage. The French counterintelligence agency, the DST, obliges Vincent to accept a deal: in exchange for his collaboration with the French and British secret services in catching the men implicated in the explosion, he won't be taken to court for the robberies he's committed while baggage handling.
---
LOL (Laughing out loud) - 2009
French Release: February 2009 - FLORIDA PREMIERE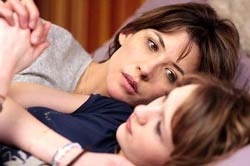 Director: Lisa Azuelos
Cast:
Sophie Marceau (Anne)
Christa Theret (Lola)
Jocelyn Quivrin ( Antoine)
Alexandre Astier (Alain)
Françoise Fabian (Anne's mother)
In text messaging, Lol means "Laughing Out Loud". Lol is also the nickname of 14 year old Lola, who is returning to school after a long summer break. Lola is reunited with her boyfriend, Arthur, and what should be a happy day is shattered by Arthur's revelation who that he has had sex with another girl—his way of "testing" their relationship. Angry and hurt, Lola lies and says that she also been unfaithful, and the two are launched into the angst-filled arena of teenage love.
Lola's mom, Anne, a recent divorcee who herself leads a complicated romantic life, reads Lola's diary and realizes that her inability to communicate with and understand her daughter has left their relationship irreparably broken. In a world of changing trends, faceless technologies, and oblivious parents, Lola and her friends invent their own methods of communication so they can navigate the perils of the tenth grade.
Twenty-five years after creating the teenage rebel Victoire in "La Boum", Sophie Marceau now appears, in "Lol", as the mother of an adolescent girl who shares her search for meaning in both life and love.
---
NO HARD FEELINGS (Sans rancune) - 2009
French Release: October 2009 - US PREMIERE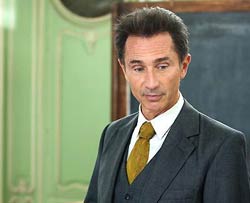 Director: Yves Hanchar
Cast:
Thierry Lhermitte (Vapeur)
Milan Mauger (Laurent Matagne)
Marianne Basler (Jeanne Matagne)
1955 - a boarding school in Belgium. Laurent Matagne (17 years old), thinks he recognizes in his French teacher nicknamed "Vapour", his father who disappeared during a raid in 1940.
---
SAFARI - 2009
French Release: April 2009 - US PREMIERE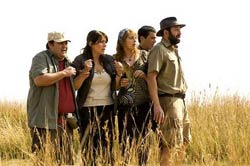 Director: Olivier Baroux
Cast:
Kad Merad (Richard Dacier)
Lionel Abelanski (Benoît)
Valérie Benguigui (Magalie)
Six French tourists have decided to discover South Africa during a safari organized by Richard Dacier. Unfortunately they're totally unaware that their guide hasn't set foot in the bush for 30 years... and that he's afraid of animals!
---
MIA &THE MIGOO (Mia et le Migou) - 2008
French Release: December 2008 - FLORIDA PREMIERE
Director: Jacques-Rémy Girerd
Cast:
Migou (voix) Dany Boon
Mia (voix) Garance Lagraa
Pedro (voix) Pierre Richard
Juliette (voix) Miou-Miou
After her mother's death, eight-year-old Mia leaves her home village, somewhere in a poverty-stricken country, and sets out to find her father. Her journey will lead her to have an extraordinary encounter with the Migous.
---
Miami, November 6-7-8
Boca Raton, November 13-14-15