THE BRIGADE
(Les hommes du feu)
DRAMA
French release: July 2017
French language with American subtitles
Running Time: 1h33
Director: Pierre Jolivet
Cast:Roschdy Zem, Emilie Dequenne, Michaël Abiteboul
Producer: 24/7 films
International Sales: Studio Canal
SYNOPSIS
Forty-five-year old Philippe is a fire station chief in the South of France. The summer is hot. Fires break out everywhere, some are the result of arson, some not. Bénédicte arrives. She is a chief warrant officer, the same rank as Xavier, an experienced firefighter. There is tension in the field but also within the brigade. We plunge into the lives of these great heroes: courage when facing the flames, but also on the front lines of our daily lives.
Philippe, 45 ans, dirige une caserne dans le Sud de la France. L'été est chaud. Les feux partent de partout, criminels ou pas. Arrive Bénédicte, adjudant-chef, même grade que Xavier, un quadra aguerri : tension sur le terrain, tensions aussi au sein de la brigade... Plongée dans la vie de ces grands héros : courageux face au feu, mais aussi en 1ère ligne de notre quotidien.
REVIEWS
20 Minutes
Alliant scènes d'action et moments plus intimes, Pierre Jolivet livre à la fois un divertissement rythmé et une étude psychologique fascinante.
Le Figaro
Un excellent film dont le réalisme frôle le documentaire. Passionnant et enflammant
Paris Match
Le réalisateur français Pierre Jolivet signe une chronique émouvante et féministe (si si) sur une brigade de pompiers du sud de la France.
Sunday, Nov 5, 3:00pm
INTERNATIONAL PREMIERE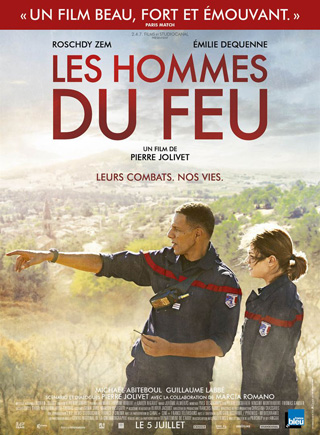 Sponsored by