50 IS THE NEW 30
(Marie-Francine)
COMEDY
French release: May 2017
French language with American subtitles
Running Time: 1h35
Director: Valérie Lemercier
Cast: Valérie Lemercier, Patrick Timsit
Producer: Gaumont
International Sales: Gaumont
SYNOPSIS
Too old for her husband, too much in her job, Marie-Francine has to go back to live with her parents ... to 50 years! She goes to meet Miguel, who without daring to admit it, is exactly in the same situation as her. How will these two be there, to house their new homeless connection? How do you do at age 50 with a teenage heart?
Trop vieille pour son mari, de trop dans son boulot, Marie-Francine doit retourner vivre chez ses parents… à 50 ans ! Elle va rencontrer Miguel, qui sans oser le lui avouer, est exactement dans la même situation qu'elle. Comment vont faire ces deux là, pour abriter leur nouvelle liaison sans maison ? Comment fait-on à 50 ans avec un coeur d'adolescent ?
REVIEWS
20 Minutes
On tombe sous le charme de son héroïne comme sous celui de son nouvel amoureux incarné par un Patrick Timsit inattendu en cuisinier séducteur.
Closer
Cette comédie romantique attendrissante concoctée à la sauce Valérie Lemercier, avec le fameux cap de la cinquantaine en toile de fond, ce révèle à la fois douce et touchante.
Direct Matin
Le thème du retour des adultes chez leurs parents est ici traité avec beaucoup de douceur, et un peu de burlesque. Timsit surprend en embrassant un registre solaire et bienveillant, aux antipodes de son cynisme habituel.
Saturday, Nov 4, 3:00pm SOLD OUT
US PREMIERE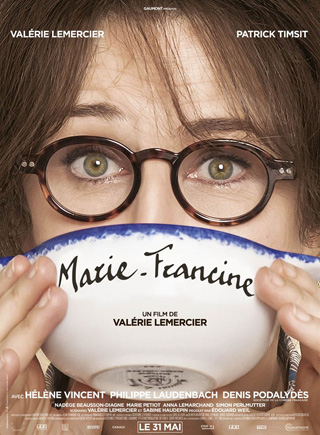 Sponsored by