TRICKY OLD DOGS
(Les vieux fourneaux)
COMEDY
French release: August 2018
French language with American subtitles
Running Time: 1h30
Director : Christophe Duthuron
Cast : Pierre Richard, Eddy Mitchell, Roland Giraud, Alice Pol
Producers :Sophie Tepper
International Sales: Gaumont
SYNOPSIS
Based on the comic strip phenomenon. Pierrot, Mimile and Antoine, three childhood friends of 70 summers, appreciate that the only known way to dodge death is to grow old - and they are determined to ripen in style! However, their reunion at the funeral of Lucette, Antoine's wife, is cut short when Antoine stumbles upon an ancient letter that sends him out of his wits. Without the least explanation to his friends, he hurtles off from their native Tarn, bound for Tuscany. Pierrot and Mimile, with Sophie, Antoine's granddaughter who is heavily pregnant and ready to drop, chase the runaway in the hope of preventing him from committing a crime of passion... 50 years after the affair!

Pierrot, Mimile et Antoine, trois amis d'enfance de 70 balais, ont bien compris que vieillir était le seul moyen connu de ne pas mourir et ils sont bien déterminés à le faire avec style ! Leurs retrouvailles à l'occasion des obsèques de Lucette, la femme d'Antoine, sont de courte durée... Antoine tombe par hasard sur une lettre qui lui fait perdre la tête. Sans fournir aucune explication à ses amis, il part sur les chapeaux de roue depuis leur Tarn natal vers la Toscane. Pierrot, Mimile et Sophie, la petite lle d'Antoine, enceinte jusqu'aux yeux, se lancent alors à sa poursuite pour l'empêcher de commettre un crime passionnel... cinquante ans plus tard.
REVIEWS
Le Journal du Dimanche
En roue libre, Pierre Richard, Eddy Mitchell et Roland Giraud donnent toute sa saveur à cette comédie façon "Affreux, sales et méchants" qui réussit à garder, dans les dialogues et à l'image, le côté cartoon de la
BD à succès
Télé Loisirs
[...] un road trip aux allures de vendetta amoureuse et sociale. Trois vieilles canailles du cinéma français s'en donnent à coeur joie [...].
Bande à part
Lorsque les ancêtres survoltés entament leur road trip
improbable, ils caressent en fait un projet très beau et très universel, que les acteurs illustrent avec une très touchante ferveur : rire encore, faire encore des conneries, en somme, vivre encore avant le dernier voyage.
Sunday Nov. 4 @4:45pm
INTERNATIONAL PREMIERE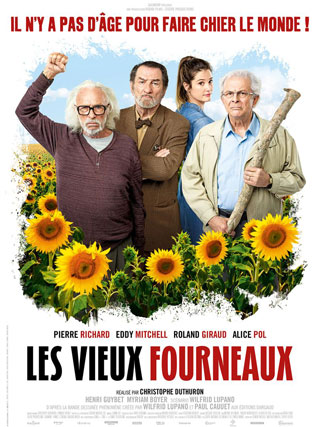 Sponsored by