ROLLING TO YOU
(Tout le monde debout)
COMEDY
French release: March 2018
French language with American subtitles
Running Time: 1h47
Director : Franck Dubosc
Cast : Franck Dubosc, Alexandra Lamy, Elsa Zylberstein
Producers : Gaumont
International Sales : Gaumont
SYNOPSIS
Jocelyn is a womanizer and a seducer... One day, he pretends to be paraplegic to seduce a young caregiver. How could he imagine that he would fall in love with her sister, who is really in a wheelchair? And so Jocelyn is finally trapped in his own scam...

Jocelyn, homme d'affaire en pleine réussite, égoïste et misogyne, lassé d'être lui-même, se retrouve malgré lui à séduire une jeune et jolie femme en se faisant passer pour un handicapé. Jusqu'au jour où elle lui présente sa soeur elle-même handicapée...
REVIEWS
Femme Actuelle
Coup de coeur pour cette comédie romantique pleine de charme et d'humour, avec la pétillante Alexandra Lamy.
Biba
Une comédie romantique tendre, dépourvue de tout cynisme, en fauteuil roulant, où tout le monde roule pour Alexandra Lamy, lumineuse.
Direct Matin
S'inscrivant dans la veine d'un cinéma américain qui ose aller loin sur des sujets souvent tabous, Dubosc concocte une romance qui s'assume, mais aborde surtout son sujet en le dédramatisant de façon cocasse
Saturday Nov. 3 @6:40pm
US PREMIERE
One of the biggest hits of the year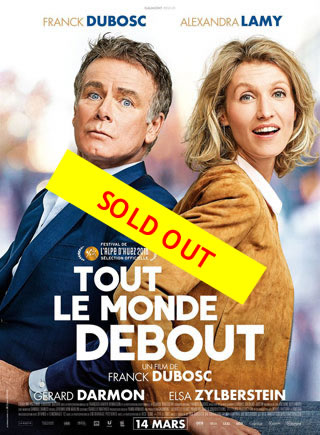 Sponsored by